Health & Wellness Benefits of Sewing
The year 2020 will always ring in memories of the global pandemic. Yet, it was during this terribly difficult time that many individuals found solace through crafts. Crafts like sewing provided a productive outlet for long days stuck at home, while also lessening the looming sense of uncertainty and stress.
During this challenging time, there was a resurgence of sewers. New and old sewers discovered (or rediscovered) their interest for the love of sewing. From stitching, quilting and embroidery, women (and men!) embarked on a journey that would bring about a new mindset and a new way of living, all while giving purpose and a sense of achievement during unprecedented times. The remarkable benefits being harnessed each day by sewing enthusiasts and novices alike are too profound not to share.
And, we have highlighted some of our most inspired creations and sewing machines below from Janome, a Women's Choice Award sewing brand recommended by 9 out of 10 of their female customers – and a company that has the benefits of sewing at the heart of their mission!
Let's begin, shall we?

Reduces Dementia

We will start with a little thing called the 'brain'. Did you know your brain is a muscle? Well, like all muscles in your body, exercise does wonders to keep you at your peak performance. So how do you exercise the brain? You guessed it – sewing. You see, since sewing improves dexterity and focus, research shows that people who sew are less likely to get dementia (and dementia can lead to Alzheimer's). Think about it this way: sewing requires the ability to focus and create, and by doing so you are exercising the brain by enhancing the brain cells' ability to function better and prevent them from dying off. So better functioning brain cells, and more of them, leads to a reduced likelihood of suffering from mental illness and memory loss.
In fact, one research study conducted by the Mayo Clinic, found that engaging in a creative hobby, like sewing, helped reduce the risk of dementia and preserve memory. A total of 256 people an average of 87 years of age were surveyed about how they used their leisure time. None of the participants at the start of the study displayed memory or thinking problems. However, in follow up assessments approximately 4 years later, 121 of the participants had developed mild cognitive impairment. In short, the individuals who crafted (i.e. quilting, sewing) were 45% less likely to develop mild cognitive impairment.
Inspired Creation: Embroidered Peplum Top
There is something so magical about feeling and looking your best. And when you begin to sew your own clothing it's like a whole world opens up before you. Plus, it's always nice to get a little self-esteem boost when you start getting all those compliments. "Where did you buy that?" they ask. "Oh, I made it!" you reply. You can learn how to create this gorgeous peplum top here. And with the sewing machine we featured below, your highest expectations for all things sewing and embroidery will be exceeded.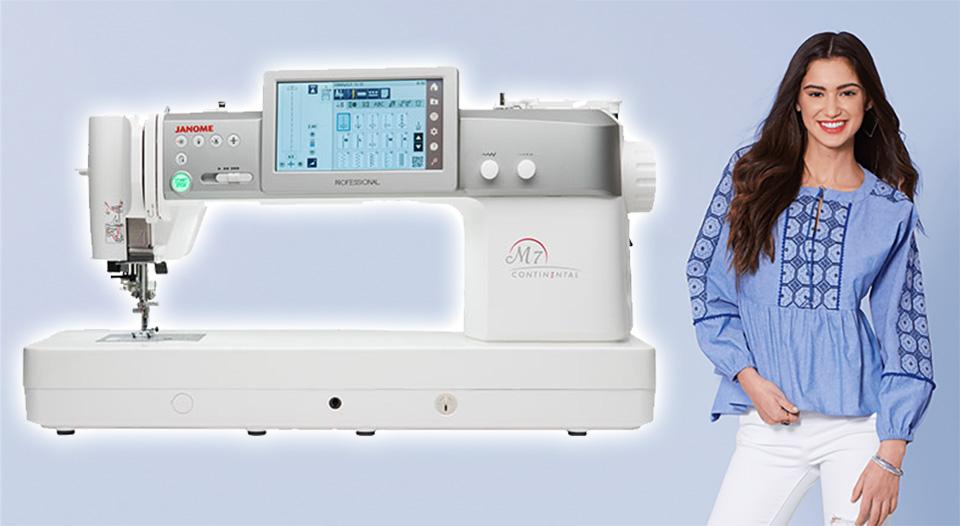 Lowers Stress and Blood Pressure

Creativity through hobbies like painting or sewing reduces anxiety, depression and stress. And since excessive stress has been linked with disease and illness, it's important to find a proper outlet to calm the body and mind. Sewing elicits a relaxation response through the body, which aids in lowering blood pressure and better digestion. In fact, a study commissioned by the Home Sewing Association found that the average heartbeat of a sewer dropped by 11 beats per minutes after sewing. Blood pressure dropped as well.
Inspired Creation: Reversible Quilted Tote
Did you know that journaling is also therapeutic in calming the body and mind? Creating notebook totes for yourself, friends or family is a gift that will last, and will quite literally carry around special memories. And, don't forget to create one for the special teachers in your life! You can learn how to create this tote here.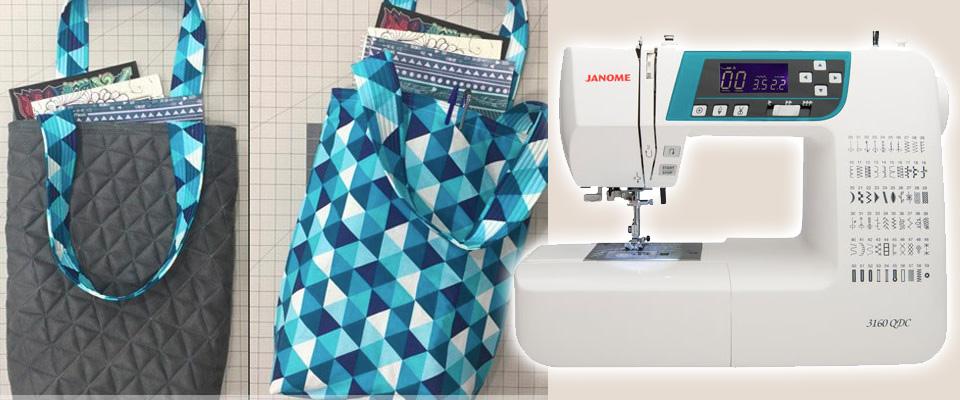 A Form of Meditation

While meditation may stir up visions of sitting cross-legged on the floor in complete silence, the term meditation has broadened over the years. Technology has allowed us to identify the activities and hobbies that elicit a similar calming response as compared to the traditional form of meditation. And as you may have guessed, sewing is considered a meditative craft. Ever hear of sewing therapy? It's real.
Inspired Creation: Mountain Sunrise
What is a better fit for meditation than a mountain sunrise? This design is embroidered beautifully into a round pillow. But, if you're into traditional meditation, it would make for a gorgeous meditation pillow! You can learn how to create this pillow here.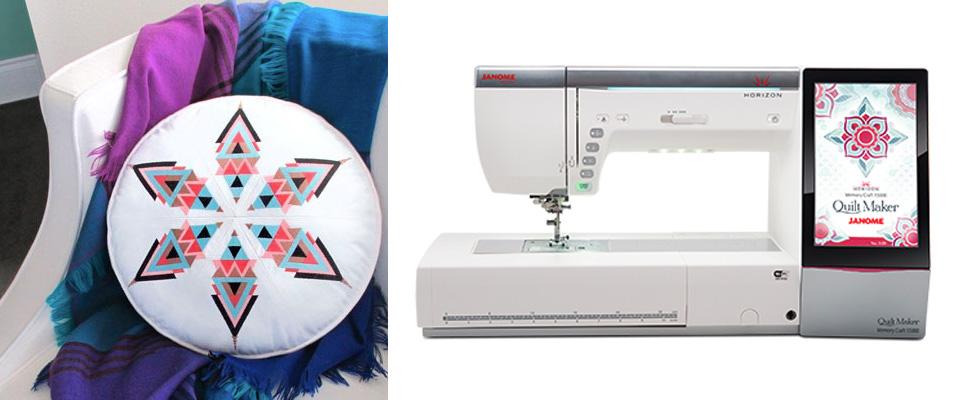 Gets you in the "Flow"

You may be thinking that you have to craft intensely; creating new patterns or learning something brand new to reap the benefits of sewing, but that's not the case. When you're doing something that's more 'mindless' like repetitive stitching, you are peaceful and in the present moment (not harping on thoughts of the past or future) – and that is what it means to be 'in the flow'. According to Psychology Today, 'flow' is a cognitive state where one is completely immersed in an activity. It involves intense focus, creative engagement, and the loss of awareness of the self.
So, being in the flow essentially means that you're completely relaxed, leaving behind any worries or anxieties. This helps to reduce your stress, and may even increase happiness over time.
Inspired Creation: Modern Trees Table Runner
When we think about getting in the flow, a beautiful, long, flowing table runner is just the right inspiration. It's great to think about all the different patterns and colors you can use to change out this home décor each season. You can learn how to create this look here. And our machine inspiration truly goes with the flow, as it can handle anything from home décor and quilting to garment sewing and scrapbooking.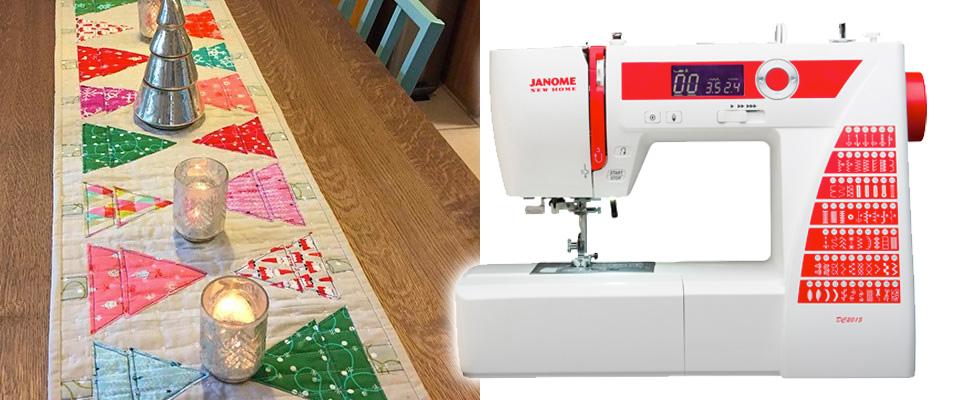 Makes you Feel Better Physically

When combining the inherent calming effect experienced with sewing, and the dopamine that gets released while enjoying the activity, it's no surprise that it translates to helping your body with everything from better sleep and less ingestion, to relief from back pain.
Inspired Creation: Lillian Quilt
Quilts are gifts for yourself and others that last a lifetime. And the beauty of picking and choosing fabrics and making unique patterns is endless. You can learn more about this pattern here. The machine we picked that inspired us is full size but also lightweight so you can take it wherever you go. And, we love that it was made with quilters in mind!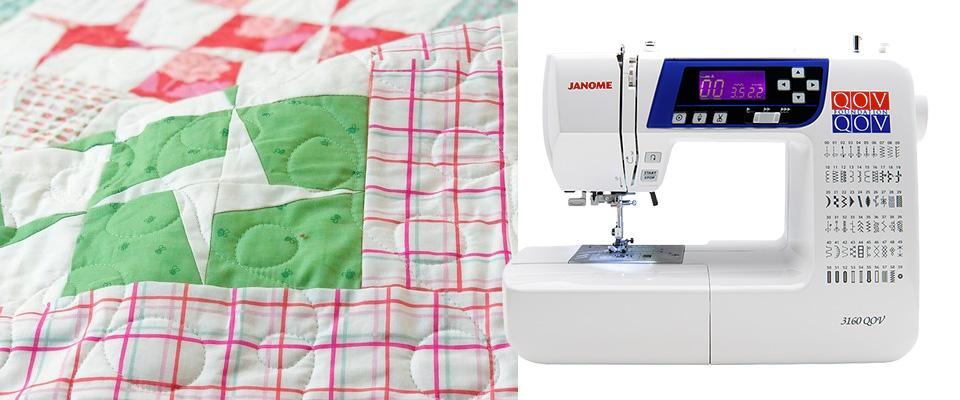 Makes You Happy

Engaging in craft activities that we enjoy, like sewing increases our dopamine levels, and dopamine is a neurotransmitter in the brain that acts as a natural antidepressant. This means you'll feel happier- it's that simple.
Inspired Creation: Zipillow
How can you not smile when you see these colors? You can learn how to make this pillow here. It's perfect for beginners or anyone who just loves to brighten up their day. Oh, and what a great project to use up all those extra fabric scraps! And the pink sorbet machine is perfect for entry-level sewers at a very affordable price.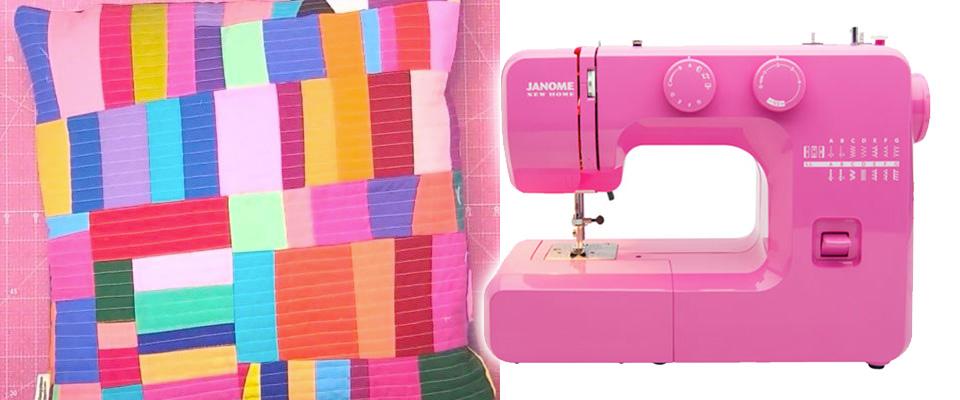 And so, while we may not be able to give you all the keys to a happy and healthy life, adopting the hobby of sewing is certainly a step in the right direction. And Janome, a leader in the sewing industry was already a step ahead in introducing a line of sewing machines that are suitable for a range of levels, from beginners to advanced levels. And as an award-winning brand, you know you're getting the best.

Beginner's Road Map:

Now tell us, are you 'sew' ready to start? If you're a beginner, it'll be fun to see the crafts recommended for your skill level here, and don't fret about which machine to buy. Janome's got you covered. Here are some of our recommendations to get you started, but you can check out Janome's full line here. And, be sure to check out all of the tutorials on their website as well as the communities you can join to start 'sew-cializing'. Happy Sewing!
Janome MOD-100Q
The MOD-100Q is a great starter set: You can learn more here: MOD-100Q


Janome Artic Crystal & Pink Sorbet
These are amazing entry level machines at an outstanding price, so you'll definitely want to check these out. And, who doesn't love a fun pop of color? You can learn more about them here.

Back