Best Companies for
Social & Environmental Impact
This award celebrates nationally recognized companies that make the world a better place to work and live in. Each category below is given a composite score based on company efforts in each applicable category. Corporate giving in these areas is applied as bonus points to qualify. Read more about our methodology.
The Women's Choice Award helps women and her families make informed choices
on the companies committed to positive environmental and social impact.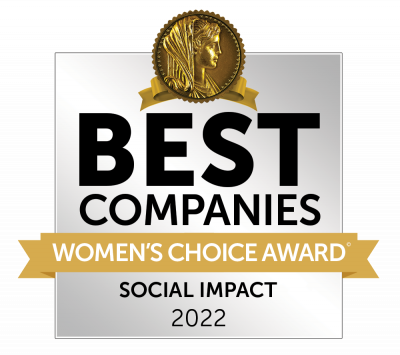 Best Company for Social Impact
Companies that meet the threshold for outstanding treatment of their employees and the community within which they work. Focus is also given to supply chain ethics and corporate giving toward community and social needs.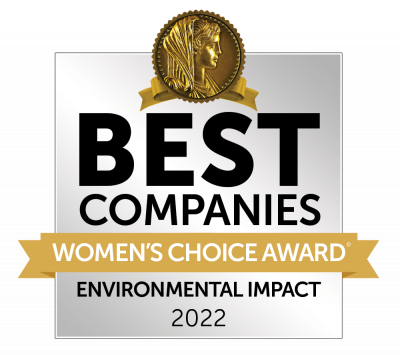 Best Company for Environmental Impact
Companies that best care for the environment in which they work. Focus is given in input and output limitation of waste, recycling results, and corporate giving toward environmental needs.
| Company | Industry | Social Impact | Environment Impact |
| --- | --- | --- | --- |
| The Myers-Briggs Company | Technology | | |
| 10Pines SRL | Software | | |
| 3Degrees Group Inc. | Energy | | |
| 4Ocean | Environmental | | |
| A to Z Wineworks | Alcohol | | |
| A&R Solar | Solar Energy | | |
| About American College of Education | Education | | |
| Abucus Wealth Partners | Financial Advisors | | |
| Ace & Tate | Eyewear | | |
| Ad Victoriam Solutions | Computer Programming Svcs | | |
| Adam Smith International | Management consultant – for-profits | | |
| Adrift Hotels SPC | Hospitality/Hotels | | |
| AeroFarms | Agricultural | | |
| AgBiome LLC | Biomes: Health & Ag | | |
| AlgaEnergy, S.A. | Energy | | |
| Allagash Brewing Company | Alcohol | | |
| Allbirds, Inc | Sustainable Footwear | | |
| AllCare Health, Inc. | Healthcare | | |
| Alliant International University | Education | | |
| Altivia Solutions, LLC | Software/Data | | |
| Alveole | Beehive Installer | | |
| Amalgamated Bank | Deposit Bank | | |
| AMS Fulfillment | Transportation support | | |
| Amy's Kitchen | Food products | | |
| Androscoggin Bank | Bank/Financial | | |
| Anthesis Group | Management consultant – for-profits | | |
| Apex Group Holdings | Financial | | |
| AppHarvest, Inc. | Growing non-perennial crops | | |
| Arabella Advisors | Finance | | |
| Arbonne | Personal care products | | |
| Armanino LLP | Accounting & auditing | | |
| Aromatherapy Associates | Health | | |
| Ash Creek Forest Management, LLC | Ecological Restoration | | |
| Asian Brewing Company | Alcohol | | |
| Aspect Capital | Financial | | |
| Aspen Medical | Medical | | |
| Aspiration | Financial | | |
| Assent, Inc. | Softward and SaaS Platforms | | |
| Assurity Group, Inc. | Life insurance | | |
| Athleta, Inc. | Apperal | | |
| Athletic Brewing Company | Alcohol | | |
| Atlas Travel & Technology Group | Travel | | |
| Atomic Object LLC | Software | | |
| Audacious Injury | Healthcare | | |
| Avid4 Adventure | Day Camps for Kids | | |
| Avocado Green Mattress | Sustainable Mattress | | |
| Azavea | Software | | |
| Banyan Botanicals | Healthy Botanicals | | |
| Baringa | Baringa Partners LLP | | |
| Barkley | Creative idea company | | |
| Beautycounter | Safe skincare | | |
| Ben and Jerry's | Food products | | |
| Beneficial State Bank | Non-profit Bank | | |
| Benevity, Inc. | Computer programming | | |
| Bernham Benefits Insurance Services | Insurance | | |
| Beta Bionics | Healthcare | | |
| Better World Books | Books & media | | |
| Bigelow Tea | Beverages | | |
| Biohabitats, Inc. | Engineering Habitats | | |
| Bi-Rite Market | Food products | | |
| BizAway SRL | Travel Tech | | |
| BlueDot | Health Technology | | |
| BlueWave Solar | Solar Energy | | |
| Bolder Industries | Recycling | | |
| Boldr | Outsourcing | | |
| Boloco | Restaurants | | |
| Boly:Welch | Staffing | | |
| Bombas | Apparel -socks | | |
| Bonterra Organic Estates | Vintner | | |
| Boochcraft | Beverage | | |
| BPM LLP | Accounting | | |
| Brattleboro S&L | Banking/Financial Advisors | | |
| Breckenridge Capital Advisors | Finance | | |
| Brew Dr. Kombucha | Beverage | | |
| Brewer Science | Microelectronics | | |
| Brewery Vivant | Alcohol Beverage | | |
| Bridges Fund Management | Asset Management | | |
| Bridgetown Natural Foods | Food products | | |
| Bulb | Energy | | |
| Burton | Sporting goods | | |
| Butcher Box | Meat/Butcher | | |
| Butler/Till | Marketing | | |
| Cabot Creamery Co-operative | Food products | | |
| Calsoft Systems | Technology | | |
| Caravela Coffee | Beverages | | |
| Carnegie | Fabrics | | |
| Cascade Engineering | Manufacturing | | |
| Catchafire | Placement | | |
| Charlotte's Web Holdings, Inc | Botanicals | | |
| Checkerspot | Microbes ?? | | |
| Chehalem Winery | Alcoholic Beverages | | |
| Chiesi Group | Pharmaceutical | | |
| Chloé | Luxury clothing | | |
| Chris King | Bicycle Parts Manufacturer | | |
| Chroma Technology Corp | Manufacturing/Tech | | |
| CircleIT | Asset Disposal | | |
| City First Bank, N.A. | Banking | | |
| City of Roses – Disposal Recycling | Recycling | | |
| Classy | Fundraising Tools | | |
| Clean Choice Energy | Energy | | |
| Clear Sale | Data processing & hosting | | |
| Cloud for Good | Technology/Software | | |
| Clover Sonoma | Dairy Farm | | |
| Coda Coffee | Coffee | | |
| Commons Company | Catering | | |
| Community Services Group | Mental health | | |
| Conexia | Healthcare IT solutions | | |
| Cooperative Home Care Associates (CHCA) | Healthcare | | |
| Costello Medical | Healthcare | | |
| Cotopaxi | Outdoor wear?? | | |
| Counter Culture Coffee, Inc | Coffee Beverages | | |
| Country Life LLC | Personal Care Products | | |
| Coursera | Online learning | | |
| Crave Fishbar | Restaurants | | |
| Creature Comforts Brewing Co | Brewery | | |
| Crosby Hops | Brewery | | |
| Crystal Creek Logistics | Logistics | | |
| Culture Amp | Software publishing | | |
| Danone North America | Manufacturing | | |
| Danone Waters of America, Inc | Beverages | | |
| Data.World, Inc. | Data | | |
| Davines | Personal care products | | |
| Daycos, Inc. | Technology for Logistics | | |
| Decisely | HR Administration | | |
| Deltec Homes, Inc | Home Builders | | |
| DEPT® | Web portals | | |
| DialogueDirect | Advertising & Market Research | | |
| Diamagi, Inc | Mobile Products/Comm | | |
| D-Orbit Spa | Satellite | | |
| Downeast | Omnichannel lifestyle brand | | |
| Dr. Bronner's | Personal care products | | |
| East Fork Pottery, LLC | Ceramic Dishware | | |
| East West Tea Co., LLC | Beverages | | |
| Eco Lips, Inc | Cosmetics | | |
| Eco-Products, Inc. | Eco-friendly Packaging | | |
| Edge Environment | Environmental Consulting | | |
| EdOps | Education Services | | |
| EDSI (Educational Data Systems, Inc.) | Consulting | | |
| Eileen Fisher, Inc. | Apperal | | |
| Elephants Delicatessen | Restaurant & Food | | |
| Energage | Research – Data | | |
| EnergyLogic | Software | | |
| Environmental Incentives | Environ. Consulting | | |
| EO Products | Body Care Products | | |
| Equator Coffees, LLC | Beverages | | |
| Erewhon | Food products | | |
| ESKA B.V. | Luxury packaging | | |
| Evergreen & Rush Creek Lodge Yosemite | Lodging | | |
| Evergreen Consulting | Energy Efficiency | | |
| Experience Momentum | Holistic Healthcare | | |
| Exponent Partners | Technology | | |
| Facilities Management Services, Inc. | Cleaning services | | |
| Ferrer | Pharmaceutical | | |
| Findhelp | Data | | |
| Fireclay Tile | Construction Materials | | |
| Firelands Scientific | Medical Cannibis | | |
| Firespring | Tech Solutions | | |
| Flock Freight | Trucking/Logisitics | | |
| Flow Water, Inc. | Beverages: water | | |
| Flowers for Dreams | Flowers | | |
| Foothold Technology | Software | | |
| Fors Marsh Group LLC | Advertising & market research | | |
| Frank And Oak | Apperal | | |
| French Broad Chocolates | Food: Chocolate | | |
| Fully | Furniture Design | | |
| FundApps | Software | | |
| Futerra | Communications | | |
| G2 Insurance Services | Insurance | | |
| Gadellnet Consulting Services | Tech Solutions | | |
| Gaia Herbs | Food products | | |
| Garden of Life, LLC | Organic Health | | |
| Gardener's Supply Company | Manufacturing | | |
| Generation Invesment Management | Financial | | |
| Genuine Solutions | Technology | | |
| Global Prairie | Marketing | | |
| GloryBee | Food items | | |
| Good Goods Holding Pty Ltd (who gives a crap) | Products | | |
| Goodkind Co | Perfume | | |
| Gotham Greens | Food | | |
| Graduation Alliance | Education Services | | |
| Grand Central Bakery | Food products | | |
| Great Lengths | Beauty Products | | |
| Green Mountain Power | Energy | | |
| Greenspark Energy | Energy | | |
| Greyston Bakery | Food | | |
| Groundwork Coffee Holdings | Beverages | | |
| Group | Management consultant | | |
| Grove Collaborative Inc. | Cleaning products | | |
| Guild Education | Education | | |
| GWI – Biddeford Internet Corp | Internet/Commun. | | |
| Hallam-ICS | Engineering | | |
| Hanson Bridgett LLP | Legal | | |
| Happy Family | Organic Food | | |
| Harris woolf Almonds | Food: nuts | | |
| Hart Howeton | Architects | | |
| Havas New York | Creative agency | | |
| Help Scout | Technology | | |
| Helpsy | Apparel Recycled | | |
| Herb Pharm | Herbal Medicine | | |
| Herb UK Ltd | Beauty Products | | |
| Heritage Aviation, Inc. | Aviation | | |
| Home Care Associates of Philadelphia, Inc. | Healthcare | | |
| Home Leasing | Real Estate | | |
| Hopworks Urban Brewery | Brewery | | |
| Houwzer | Real Estate | | |
| Hovione | Pharmaceutical | | |
| Ian Martin Group | Technology | | |
| IBA Group (Ion Beam Applications Group) | Manufacturing | | |
| illycaffè SpA | Manufacturing | | |
| Imperfect Foods | Food products | | |
| Ingage Partners | Technology | | |
| Inspire Clean Energy | Energy | | |
| Intrepid Travel | Travel | | |
| Investindustrial | Financial | | |
| ISDIN | Personal care products | | |
| ISEM Group | Business | | |
| Jeni's Splendid Ice Creams | Food products | | |
| Jitasa | Accounting | | |
| JoJo Maman Bebe | Apperal | | |
| Kalsec, Inc. | Food products | | |
| Karen Kane | Clothing | | |
| Kathmandu | Apperal | | |
| KeepCup | Reusable cup | | |
| KeHE Distributors, LLC | Food products | | |
| Kickstarter PBC | Financial | | |
| Kids in the Game | Fitness & Sports | | |
| Kin and Karta Americas | Mobile applications | | |
| King Arthur Baking Company | Food products | | |
| Klean Kanteen | Business | | |
| Lactalis US Yogurt, Inc. d/b/a Stonyfield Farm, Inc. | Food products | | |
| Lake Champlain Chocolates | Chocolate | | |
| Lakefront Brewery | Beverages | | |
| Lazarus Naturals | CBD | | |
| Le Labo Holding, LLC | Perfume | | |
| Leanpath | Technology | | |
| Legacy Vacation Resorts | Travel | | |
| Lemonade, Inc. | Insurance | | |
| LifeStraw | Clean water | | |
| Lombard Odier | Investments | | |
| Lovevery | Educational | | |
| Luke's Lobster | Seafood | | |
| Lulu Press, Inc | Books | | |
| Maaji | Textiles | | |
| Maker's Mark Distillery | Distillery | | |
| Mal Warwick Donordigital | Technology | | |
| Malouf | Furniture | | |
| Mascoma Bank | Deposit Bank | | |
| Mayfly Outdoors | Manufaturing | | |
| McCarty Family Farms | Farm | | |
| MegaFood | Food | | |
| Meow Wolf | Arts & entertainment | | |
| MiiR | Retail | | |
| Milk & Honey PR | PR | | |
| Miyoko's Creamery | Dairy | | |
| MobSquad | Engineers | | |
| Moodle Pty Ltd | Educational | | |
| Moye White | Legal | | |
| Mpm Products Ltd | Pet food | | |
| Nahaul IT | Technology | | |
| Namaste Solar | Solar | | |
| National Co+Op Grocers | Grocers | | |
| Native Trails | Art | | |
| Natura &Co | Personal care products | | |
| Nehemiah Manufacturing Company | Manufacturing | | |
| Neil Kelly Company | GC | | |
| Neotech Products | Manufacturing | | |
| Nespresso Global | Beverages | | |
| New Belgium Brewing Co, Inc. | Beverages | | |
| New Chapter, Inc. | Vitamins & Supplements | | |
| New England Biolabs, Inc. | Chemicals & chemical products | | |
| New Seasons Market | Food products | | |
| NewAge Industries Inc. | Manufacturing | | |
| NewForests | Financial | | |
| NextEdge Network Holdings & Modus | Technology | | |
| Noodle | Educational | | |
| North Coast Brewing Co., Inc. | Beverages | | |
| Northwest Permanente | Medical | | |
| Novica | Art | | |
| N-SIDE | Consulting | | |
| NuLeaf Naturals | CBD | | |
| Nutricia North America | Nutrition | | |
| Nuun | Supplements | | |
| O-Bank | Deposit Bank | | |
| Octopus Group | Investments | | |
| OLLY PBC | Food products | | |
| OluKai | Brand | | |
| Olympic Coffee | Coffee roaster | | |
| Omal S.P.A. | Business | | |
| Omnidian, Inc. | Financial | | |
| O'Neill Vintners & Distillers | Wine | | |
| Only Natural Pet | Pets | | |
| OpenClassrooms | Education | | |
| OverDrive, Inc. | Mobile applications | | |
| Owen Mumford LTD | Medical | | |
| Ozery Family Bakery | Bakery | | |
| PAE | Energy | | |
| Parker Clay | Retail | | |
| Participant | Film, TV Production | | |
| Participate Learning | Educational | | |
| Patagonia Works | Apparel | | |
| Permanente Dental Associates PC | Dental | | |
| Pete and Gerry's Organics, LLC | Organic eggs | | |
| Pharos Systems International | Technology | | |
| Phocas Group Pty Ltd | Software publishing | | |
| Pivot Energy | Solar | | |
| Plant Prefab | Business | | |
| Positive Energy Solar | Solar | | |
| PRANA | Organic food | | |
| Prometheus Real Estate Group | Real estate – leased property | | |
| Prose | Beauty brand | | |
| Proud Source Water | Water | | |
| PUR Projet | Business | | |
| Pure Ground Ingredients | Organic spices | | |
| Pure Synergy | Organic supplements | | |
| Purpose | Social business | | |
| Quadpack | Manufacturer | | |
| Quality Bicycle Products, General Benefit Corporation | Bicycle products | | |
| Raining Rose Inc. | Personal care products | | |
| Rally | Communications | | |
| RBW | Lighting | | |
| Renewable Resources Group | Real Estate | | |
| Renewal Memory Partners | Medical | | |
| Rescue Agency | Marketing | | |
| Resonance | Consulting | | |
| Revision Energy Inc | Solar energy | | |
| Revolution Foods | Food products | | |
| Rhino Foods | Desserts | | |
| Rice Fergus Miller | Auto repair | | |
| Ripple Foods, PBC | Plant based milk | | |
| Rituals Cosmetics | Personal care products | | |
| Riverside Natural Foods Ltd. | Food products | | |
| Rodeo Dental & Orthodontics | Dental | | |
| Roy Farms, SPC. | Food | | |
| RStudio | Technology | | |
| Rubicon | Software platform | | |
| Rubicon Bakers | Food | | |
| Sama | Data processing & hosting | | |
| Santex | Technology | | |
| Saxbys | Beverages | | |
| SCB Group | Financial | | |
| ScienceMagic.Inc | Business | | |
| SecondMuse | Business | | |
| Sensiba San Fillipo LLP | Accounting | | |
| Seventh Generation | Cleaning products | | |
| Sezzle | Fintech | | |
| Simply Business UK | Insurance | | |
| Singularity Education Group | Educational | | |
| SkyHive Technologies Holdings Inc. | Technology | | |
| Skyline Hawai"i | Zipline | | |
| Sno-Isle Food Co-op | Organic Food | | |
| Société Anonyme des Eaux Minérales d'Evian | Beverages | | |
| Soko Inc. | Lifestyle | | |
| Sol Organica | Organic Food | | |
| Solberg Manufacturing | Manufacturer | | |
| SOURCE Global, PBC | Hydropanels | | |
| Southern Bancorp, Inc. | Banking | | |
| Southern Energy Management | Solar | | |
| Spektrix | Technology | | |
| SRI Qualty System Registrar | Business | | |
| Steensen Varming | Engineering | | |
| Stok | Business | | |
| Stoller Family Estate | Vineyard | | |
| Stone Creek Coffee | Coffee | | |
| Straightup Solar, LLC | Solar | | |
| Stumptown Coffee Roasters | Coffee | | |
| Success Rehabilitation | Medical | | |
| Summerhill | Energy | | |
| Sun Light & Power | Solar | | |
| SunBug Solar, LLC | Solar | | |
| SunCommon | Solar | | |
| Sunday Riley | Business | | |
| Sundial Brands, LLC | Personal care products | | |
| Sunrise Banks | Deposit Bank | | |
| Sunrise Treatment Center | Rehabilitation | | |
| SureCall Contact Centers Ltd | Business | | |
| S'well | Design | | |
| SYLVAIN | Consultanting | | |
| Sympatex Technologies GmbH | Technology | | |
| Taos Ski Valley, Inc. | Recreation | | |
| TCG, Inc | Technology | | |
| Teachstone | Educational | | |
| Techstars | Info service activities | | |
| Techtonic | Technology | | |
| The FruitGuys | Food | | |
| The GFB | Food | | |
| The Green Cities Company | Real Estate | | |
| The Guayaki Yerba Mate Co. | Beverages | | |
| The National Society of Leadership and Success | Educational | | |
| The Redwoods Group | Business | | |
| The Tofurky Company | Food | | |
| The Vita Coco Company | Beverages | | |
| Thesis | Marketing | | |
| Thrive Market | Food products | | |
| TiER1 Performance | Management consultant – for-profits | | |
| Tierra Farm, Inc | Food | | |
| Tillamook County Creamery Association | Food products | | |
| TODO1 Colombia LTDA | Software, SaaS | | |
| TOMS | Apperal | | |
| Tom's of Maine | Personal Care | | |
| Tony's Chocolonely | Chocolate | | |
| Too Good To Go ApS | Mobile applications | | |
| Torani | Food products | | |
| Total Media Group Ltd | Marketing | | |
| TowerBrook Capital Partners L.P. | Financial | | |
| Tracklements | Food | | |
| Traditional Medicinals | Beverage | | |
| Tribe 9 Foods | Food | | |
| Triple P International Pty Ltd | Parenting | | |
| Trove Recommerce | Business | | |
| TUX Creative Co. | Marketing | | |
| Two Dudes Painting Company | Painting | | |
| Uncommon Goods | Art | | |
| University of St. Augustine for Health Sciences | Higher education | | |
| Uplight | Web portals | | |
| Upslope Brewing Company | Beverage | | |
| Urban Remedy | Food products | | |
| ustwo | Business | | |
| Valrhona | Food products | | |
| VEJA | Footwear: Sneakers | | |
| Ventegra | Medical | | |
| Vera Solutions | Technology | | |
| Veramed | Technology | | |
| Veritable Vegetable | Organic produce | | |
| Vermont Creamery | Food | | |
| Veterinary Specialty Center | Veterinary | | |
| Viña Concha y Toro S.A. | Beverages | | |
| VIPdesk Connect Inc. | Technology | | |
| Virginia Community Capital Social Enterprises | Business | | |
| Vital Farms | Food | | |
| VivoPower International PLC | Energy | | |
| W.S. Badger Co, Inc. | Skincare | | |
| Wagestream | Financial | | |
| Walden Local Meat | Food | | |
| Walker-Miller Energy Services | Utilities | | |
| Warby Parker | Eyewear | | |
| WasteZero, Inc. | Garbage | | |
| Weleda AG Group | Personal care products | | |
| Wendel Rosen LLP | Legal | | |
| West Paw, Inc. | Pets | | |
| Wetherby Asset Management | Financial | | |
| Wolf & Badger | Retail | | |
| Woolf Enterprises | Technology | | |
| Workit Health | Rehabilitation | | |
| World Centric | Business | | |
| Yin Yang Naturals | Organic food | | |
| YNSECT | Pet food | | |
| Yoti | Mobile applications | | |
| Zeus Jones | Business | | |
| Zevia PBC | Food | | |
| ZI Group Ltd. | Technology | | |
| Zordan S.r.l. sb | Retail | | |