Questions to Ask Before Hiring a Roofing Contractor
If you need a new roof or need to schedule some repairs, finding a roofing contractor can be overwhelming. Choosing the right roofing contractor is just as important as the quality of the materials you choose. There is a lot to consider when choosing the best roofing contractor near you, but if you know the right questions to ask, you can ensure you're making an informed decision that works best for your needs and budget.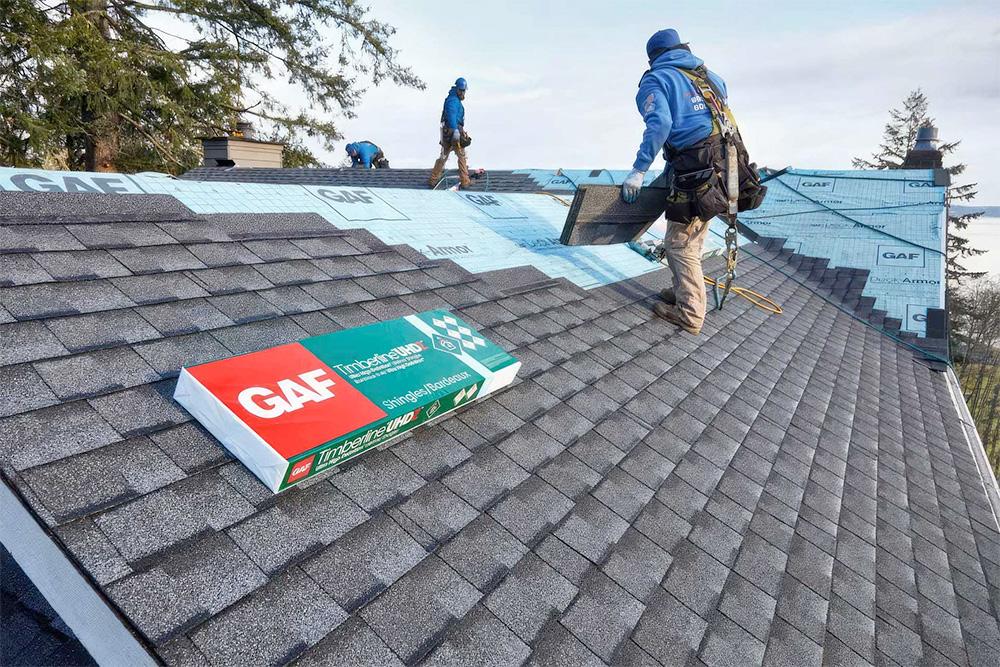 What is your legal company name and address?
The first thing you will want to ask is what the company's legal name is and the address where they can be reached. With a full legal name, you can research the potential contractor by looking at their website, reading reviews, and more.
If a roofing contractor uses a private address or a P.O. Box, it can raise red flags. You want to work with a contractor that is local and easily accessible. Plus, local contractors may take more pride in their work, as they depend more heavily on positive reviews and word of mouth recommendations to grow their business within your community.
How long has your company been in business?
Many contractors build their businesses through their reputation and through past projects. The longer a roofing contractor has been in business, the more experience they have. You're more likely to work with someone skilled and who will offer a fair price. You will also have the advantage of checking references and reviewing a portfolio of completed work.
Are you licensed?
Roofing contractors must have the proper licensing and certifications to operate on businesses and homes locally. Unfortunately, there are still many businesses that continue to work unlicensed. Unlicensed roofing contractors can rack up fines for both the homeowners and themselves, and put you at risk of paying additional fees if anyone is injured during the job.
A quality licensed roofing contractor will always be transparent about their license and work qualifications. You can ask to see the license and check with your local licensing offices to ensure they meet the requirements for your location, as all requirements vary. You can check for local contractors and their reviews here.
Do you have insurance?
Licensed contractors will carry worker's compensation and liability insurance to ensure everyone is protected in the event of an accident. Worker's compensation protects you as a homeowner if a contractor or worker is injured, while liability insurance protects your home from damage during the roofing job. If a roofing contractor is uninsured, you could be liable for any medical bills or costs associated with injuries or damages.
Do you offer a warranty?
Roofing contractors often offer warranties in the event of sudden damage caused by their work or any other issues. For most roofing jobs, the manufacturers offer warranties on the supplies, while the roofer will cover the cost of the work over several individual warranties. Because several warranties are offered through a roofing contractor, you'll want to get the details of what's being offered. Many extended warranties can add to the overall cost of the project.
Do you partner with subcontractors?
Subcontractors are other contractors that roofing companies will sometimes partner with to complete a job. If a roofing contractor is working with a subcontractor, it's essential to ask the same questions you're asking your primary contractor.
Make sure the subcontractors are licensed and insured, work locally, and are reputable companies. Find out who the project manager will be and if they will also be the same person on-site, or you could be working with many people throughout the contract. Always be sure to say no to contractors that work with unlicensed subcontractors.
How long will the project take?
Roofing contractors should provide details on what to expect during the project, and you need to get a good idea of how long it will take. The timeline for the completed project will include the amount of time it will take to finish the roof installation, repairs, and replacements from start to finish.
What can you do to ensure the project timeline will stay on track?
While a roofing contractor will provide a timeline, issues can arise anytime that can push out a timeline further than expected. Ask contractors about their contingency plan in the event of an obstacle. Examples of common obstacles include: not having enough workers in place in the event of an emergency; shortage of materials and/or tools, and; unforeseeable inclement weather.
Finding the best roofing contractor for your home doesn't have to be complicated. With the right questions, you can better understand each roofing contractor to find the best company for you.
GAF is one of the largest roofing manufacturers in the U.S. and has earned the Women's Choice Award for the best roofing brand. GAF materials are of the highest quality, and GAF roofing contractors are among the best in the business. . . and you deserve nothing less.
Every GAF-certified contractor has to meet strict requirements every year. GAF contractors must be properly licensed and ensured, have a track record of quality work, and be up to date on the latest technology and installation practices. You can rest easy knowing you're working with a contractor with a strong reputation that you can trust will get the job done. Nonetheless, be sure to do your due diligence on any companies you're vetting for the job.
Back