The Evolution of Corporate America: The Pros and Cons of Remote Work and the Hybrid Solution
With remote work becoming an increasingly popular option, people are asking whether or not this is the future of employment. While more and more jobs move away from the traditional office setting, recent trends also show employers are planning for the 'Great Return'. Here, we weigh the arguments for and against working remotely, and the varying preferences among employers and employees. In the end, we address corporate America's natural evolutionary process to appease all parties: Hybrid work.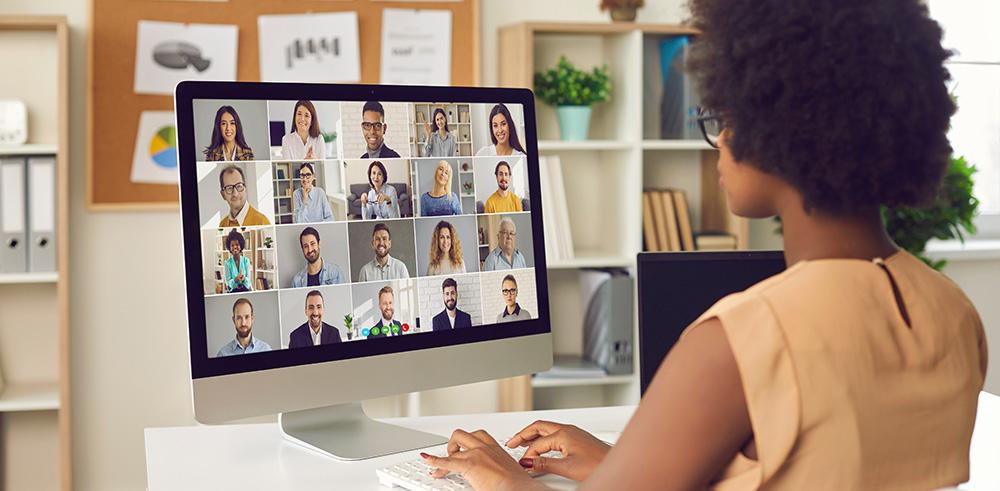 Remote Work's Future
For many employees, remote work has now become more of an expectation than an allowance and is highly preferred. Remote work can be done anywhere in the world, so it's perfect for people who want to travel or work from home. Employees can also take advantage of flexible hours and working conditions, making it an excellent option for parents, people with disabilities, or even those looking to establish a healthier work-life balance. Of course, gas prices are another strong barrier to commuting back to the office and serve as yet another reason for remote work preferences.
And some employers would agree. With higher rent and overhead costs, employers who have moved their staff exclusively to remote work have found significant cost savings.
Many companies, like Eastman Chemical, named by Women's Choice Award as one of the best places to work for millennials, women, and diversity, offer flexible work opportunities through telecommuting jobs and long-term or short-term temporary positions for full-time and part-time schedules.
Nonetheless, while the pandemic has forced many companies to re-evaluate their stance on remote work, it has become a hot topic of debate, with some contending that it leads to a loss of productivity.
Employee v. Employers: Preferences for Remote Work
Naturally, not everyone sees eye to eye and research suggests an individual's position within the company may be a contributing factor. According to CNBC, 44% of executives working remotely said that they would prefer to work from the office every day, while just 17% of employees said the same. And, according to a report from Microsoft, managers are struggling to balance these competing desires: More than half of managers believe leadership is out of touch with employees, but 74% say they don't have the influence or resources to enact change for their employees.
It is clear that companies who remain resistant to more flexible options are losing staff. A recent study found that 4.5 million people quit their jobs in November 2021 alone, with the majority citing a need for more flexible work arrangements. Employees have also had the upper hand since jobs have had to offer more flexible arrangements and higher compensation to attract qualified personnel, but some now argue that is coming to a halt as we move into a recession.
Ultimately, employers that can meet employees' expectations will be able to retain the top employees and evolving with the times and expectations of today's workforce is necessary for hiring.
Of course, as with anything there are both pros and cons to remote work.
Pros of working remotely:
Employees can save on expensive commute costs, such as gas and car maintenance.
Workers have more flexibility to take care of personal errands or appointments during the day.
Companies can save on overhead costs.
Cons of working remotely:
Employees may feel isolated from their co-workers and have difficulty building relationships.
Companies may have difficulty managing remote employees and tracking their work.
Remote work can lead to employees losing work/life balance as the line between work and personal time can blur.
Pros of returning to the office:
Employees can collaborate and build relationships with their co-workers in person.
Companies can better manage and monitor employee productivity.
Employees may feel more motivated to work when they are in the office.
Cons of returning to the office:
Employees may have to spend money on expensive commute costs, such as the rising cost of gas and car maintenance, and companies must pay for the space they work from.
Workers have less flexibility to take care of personal errands or appointments during the day and may feel more restrained in their job.
Companies may have difficulty accommodating and keeping employees with different needs, such as parents or employees with disabilities if work returns entirely to the office.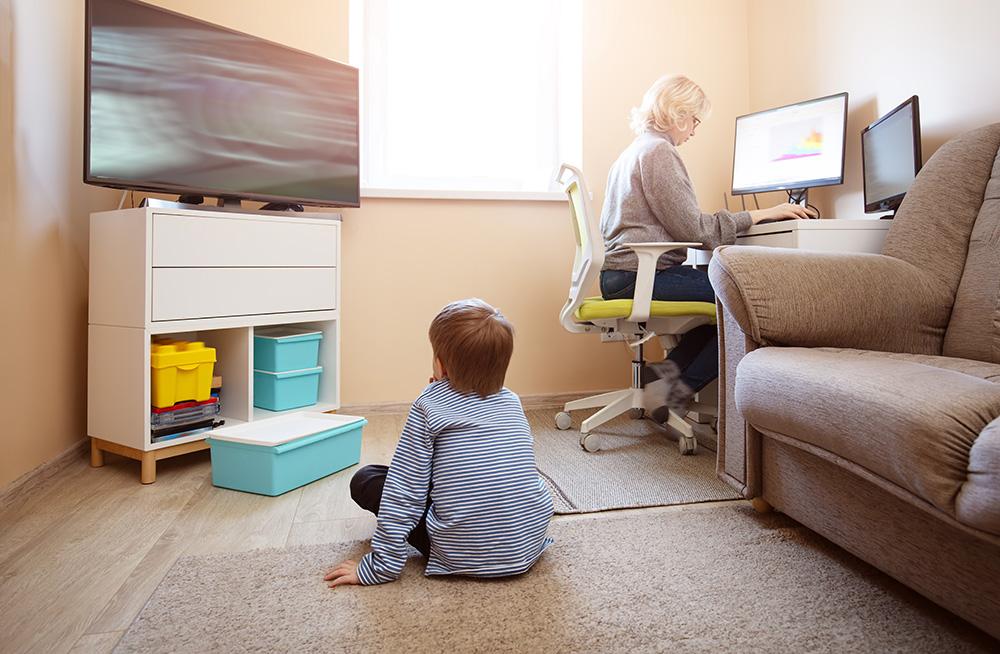 One thing is certain, the pandemic has been a catalyst for change, and how we work will never be the same again. Cities that have historically been difficult to commute to or lacked access to outstanding professional jobs will see a significant increase in population as remote work becomes more prevalent. This will profoundly affect these communities, transforming them entirely and giving rise to new opportunities.
With the pros and cons of working remotely weighed, it is evident that remote work has a lot to offer both employees and employers. From increased productivity to cost-savings, there are many reasons why the future of work will be more remote. However, not everything about working from home is perfect. There can be isolation, distractions, and a lack of team camaraderie when people don't work together in an office setting. So, while the future may increasingly be one where people do their jobs from anywhere, it's important to remember that there are still some things that can only happen in an office setting, and some organizations may operate better in person.
Like planet Earth, its inhabitants must evolve, and corporate America is no different. It's for this reason that a natural process to bridge the gap between remote work's pros and cons has emerged. It's called Hybrid work.
According to a new McKinsey survey of 100 executives across industries and geographies,
"in the post-pandemic future of work, nine out of ten organizations will be combining remote and on-site working."
According to Hubble, here are some of the most famous companies and how they are approaching their future workplace strategies: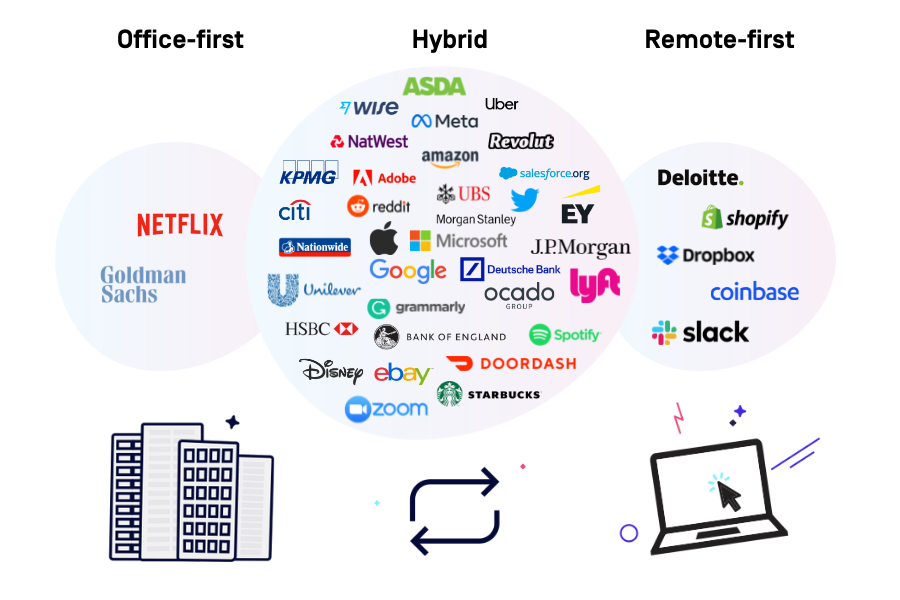 Alas, America is changing before our eyes and as history and logic tell us, the best way for employee and employers to forge forward into a new future and ever-evolving world, is to adapt. It's wise of course to look at who's doing it best, so be sure to take a look at the 2022 Women's Choice Award Best Companies to Work For.
Back