A Housewarming Party Checklist
Buying a home is a momentous milestone in your life, one you want to celebrate with your friends and family. After you've finally moved in, unpacked, and decorated, it's time to welcome your loved ones with a housewarming party.
You see, a housewarming party is not just any party; it's an event that signifies an exciting time in your life. It brings your friends and family to tour your new home and provides you an opportunity to meet your new neighbors.
When you're ready to finally invite guests and celebrate your new home, it can seem overwhelming with everything you need to get done. Don't stress! This checklist will walk you through everything you need to throw the perfect housewarming party that's both entertaining and hassle-free.
And if you're still in house-hunting mode it's our honor to share that Coldwell Banker earned the Women's Choice Award as being 9 out of 10 recommended by their female customers – and that's saying something! And since it's our mission to help women find the best brands and services, simply go to Coldwell Banker to find a real estate agent in your area. And remember, not all agents are created equal so do be sure to read our blog: Why You Need a Great Real Estate Agent.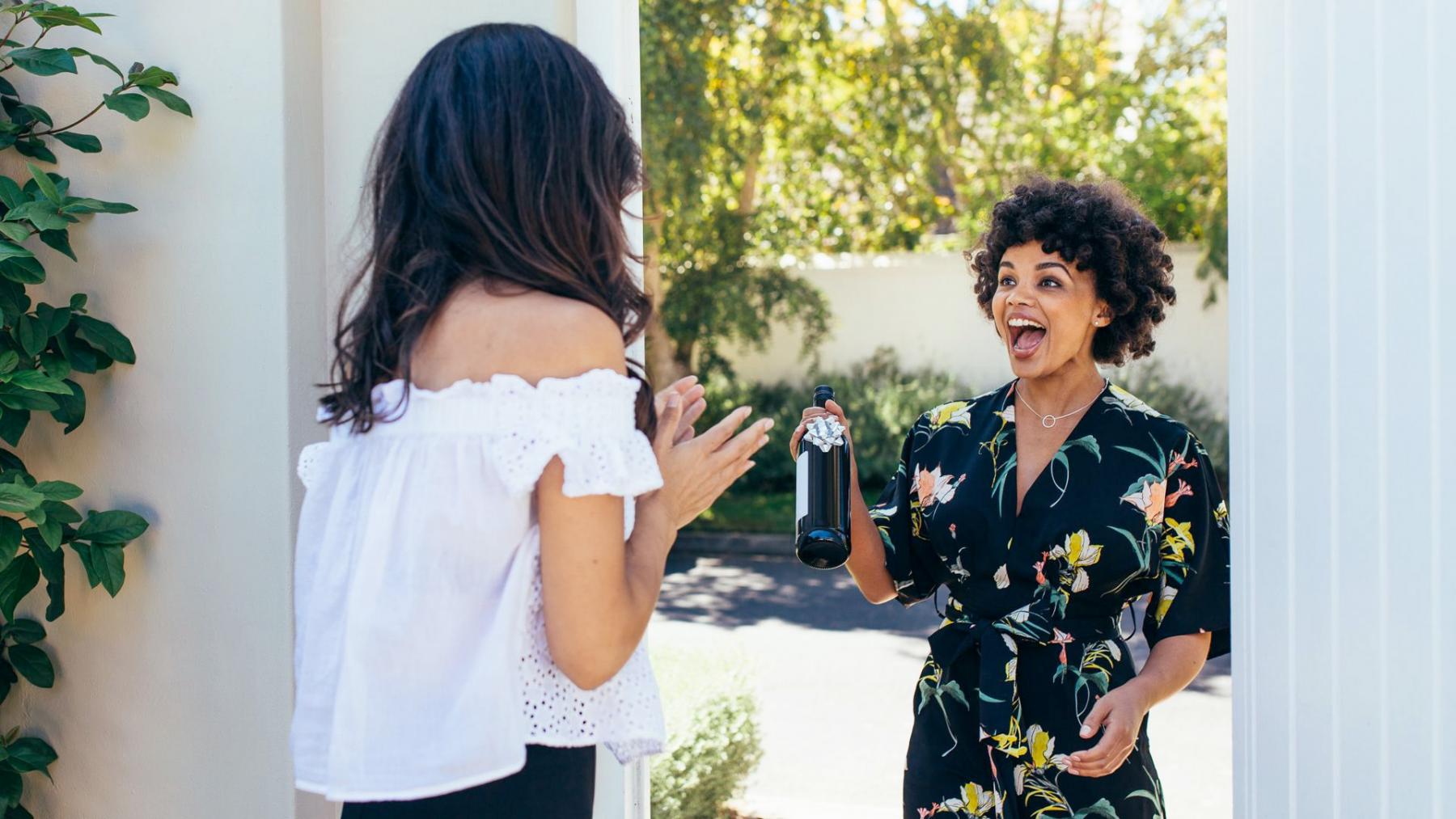 Now let's get back to…

How to Plan a Housewarming Party!
There's no better way to celebrate your home purchase than celebrating with a housewarming party. If you're not sure what you need to do, follow this checklist to help set you up for a successful housewarming party everyone is sure to remember.
First, Prep The Home – Before you throw your housewarming party, the first thing you'll want to get done is the preparation of your home. Get your house unpacked, decorated, and clean in order to relieve any stress. Trying to throw a party before you're settled in will cause you unnecessary strain, and the great thing is that there's no timeline! The party will happen when you're ready. Tackle one thing at a time. And being settled in will mean you're already stocked up on essentials like toilet paper, paper towels, and dinnerware for your guests.
Choose the Date – There's no hard rule on when to have a housewarming party after you buy your home, but you'll want to give yourself enough time to take in your new home before you start inviting people over. Choose a date at least a few weeks after you move and allow yourself time to unwind, take in your new surroundings, and plan. This is meant to be an exciting event, one that you look forward – not another checkbox on your 'moving-in to do' list.
Put Together a Guest List – Create a list of everyone you want to celebrate your new home with. Consider how big your home is and how many people can comfortably enjoy the space. And like any party, you should always err on the side of caution and assume friends and family might bring others to tag along. If you prefer to keep it small, then you can subtly point that out in your invite. For example, 'Inviting you to join for a small, intimate gathering at my new home sweet home." You get the gist.
Decide on the Theme – While not required, a theme can be anything from simple color schemes to having your guests dress up as their favorite movie characters. Choosing a theme can help you easily put together the menu, drinks, decorations, and games and enhance the fun and detail put into your housewarming party by both you and the guests. Of course, the party doesn't have to be elaborate it can be a small group of friends where you host small bites and cocktails. But if you're going big, then consider a theme to tie everything together. (Think: Gatsby; Casino; White Party) A consistent theme for parties is part of what gives the 'wow' factor for your guests.
Make a Gift Registry – Gifts are optional, but a housewarming party is traditionally celebrated with gifts to provide your home with what you need. With a registry, you can let people know what you need, if anything, and prevent any duplicate gifts .
Send Invitations – Start sending out invitations once you have a date. You can go the traditional route with mailed invitations or simple evites. You'll want to get them out at least a few weeks before your event to give your guests enough time to be able to plan, mark their calendars and RSVP. Be sure to provide your new address, directions, and any parking instructions they may need.
Decide on a Menu – What do you want to serve your guests? Do you want a simple table of appetizers, or do you want to host a potluck where guests bring a snack of choice? Keep it casual so you and your guests can focus on touring the new space and catch up. Don't forget the drinks!
Plan Entertainment – Mingling and a house tour can be all you need to throw a great party, but if you want to incorporating some games, that will certainly add excitement. Plus, it's a great way to bond with friends or your new neighbors. And be sure to keep it flexible and play it by ear. The goal is to have fun.
Create a Music Playlist – Music sets the mood of any event, and before your housewarming, decide on the perfect playlist for welcoming people into your new home. While compiling that playlist, you'll want to consider your guests and what they might enjoy.
Decorate the Party Area – You don't have to do too much to decorate your home in preparation for welcoming guests. You can choose different areas for food, drinks, and entertainment. It can be a decorated buffet table for snacks and drinks, fresh flowers, or scented candles, or you can go all out with balloons, streamers, and signs.
Prepare the House Tour – The house tour is essential for a housewarming party. Be sure to map out everywhere you want to show off and ensure you clean and tidy each room before showing your guests.
Plan for Easy Cleanup – You've just settled into your new home and so you'll want to make the after party clean up a breeze. Consider using recyclable plates, cups, and utensils. You can shop for plastic silverware and plates that still look fancy while keeping your clean-up to a minimum.


A housewarming party is all about showing off your new home to the people you care about most. Once you have moved through this housewarming checklist, you're all ready to go to spend some well-deserved time enjoying the company and taking in your new home.
Buying a home is a significant milestone in your life. When you're ready to take the next step and find your dream home, Coldwell Banker will walk with you every step of the way. You're in good hands with professionals who know your neighborhoods in and out, helping you check off your list of needs and matching you with the perfect home for you and your family.
Coldwell Banker is an award-winning brand recommended by 9 out of 10 of their female customers, earning them the Women's Choice Award. We highly recommend looking for a Coldwell Banker agent in your area to help you find your dream home.
Back