Benefits of Eating Organic Food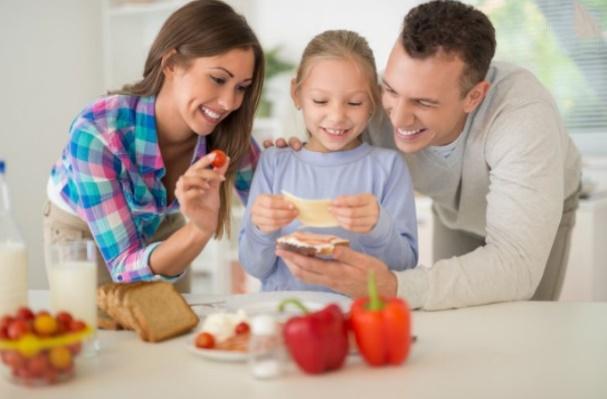 The world of nutrition is constantly changing, with many options for women and their families. One of the most popular lifestyles currently, Keto, has another variation, the Ketotarian Diet. The latter is a plant-based version of the diet, which encourages eating foods like avocados, olives, and nuts. Another popular movement is the vegan way of eating, which promotes a lifestyle without eggs, meats, or dairy products.
However, an article by the Harvard T.H. Chan School of Public Health mentions that quality should be the focus of a healthy diet over the number of calories. The article also argues that the less processed and unrefined the foods, the better. Let's explore why organic foods have an advantage.
Why Organic?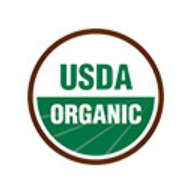 One of the questions that often comes up is, are organic foods healthier? The most significant difference between conventional foods and organic foods is in their farming and animal raising methods. As per the U.S. Department of Agriculture (USDA) "Certified organic foods are grown and processed according to federal guidelines addressing, among many factors, soil quality, animal raising practices, pest and weed control, and use of additives." Organic farming practices exclude synthetic fertilizers, pesticides, genetic engineering, antibiotics, or growth hormones for livestock.
Organic foods pertaining to livestock also stands for animals that have access to the outdoors and natural conditions. These animals also follow an organic diet and a healthy lifestyle with exercise and monitoring. The opposite conditions may be crowded environments with questionable living conditions and inhumane treatment. Many companies with organic foods raise their standards to only source from livestock raised humanely, some even making the humane treatment of animals part of their mission.
Another vital factor to consider, especially in produce, is the cleanliness of foods. Foods like strawberries and spinach may have pesticide residues that we could be consuming unknowingly. Foods with remnants of pesticides or high incidences often fall in "dirty food" lists, making us as consumers more aware. Proper food handling and washing, especially leafy greens and other foods with thinner skins is very important. And, products with the specific purpose of providing specialized solutions for cleaning foods are available to consumers in the market. The importance of consumer awareness, however, also lies in knowing what our foods contain.
How to Read Organic Food Labels
To be certified, organic foods need to meet strict government standards, following the organic certification program established by the USDA. In labels, foods can either be described as 100% organic, organic, made with organic, or organic ingredients. Let take a quick look at what each of these terms means:
100% organic

certifies single-ingredient foods, such as eggs, meats, fruits, and vegetables. These foods may carry the USDA organic seal.

Organic

, in the case of a multi-ingredient food, means that at least 95% of the ingredients are certified organic. These foods may also carry the USDA organic seal.

Made with organic

means that multi-ingredient foods had a minimum of 70% certified organic ingredients. These foods may not have the USDA seal.

Organic ingredients

refer to multi-ingredient foods that are less than 70% certified organic and may not be labeled organic or carry the USDA seal.
Nowadays, foods in their single or multi-ingredient state are more accessible than ever. Many supermarkets offer organic food sections in their aisles that provide many choices that are easy to spot with clear labeling. Let's explore some trusted organic food choices that meet the USDA requirements and the highest standards set by women as determined by the Women's Choice Award.
Organic Food Ideas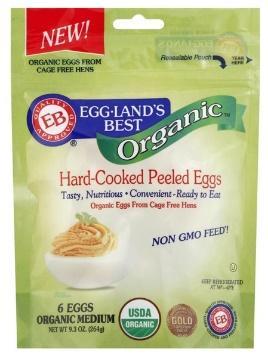 Eggland's Best, America's Most Recommended for Fresh Eggs and Hard-Cooked Eggs, offer a variety of organic eggs. Their organic eggs are USDA certified as organic and produced by cage-free hens that eat an all-vegetarian feed that contains no added hormones, antibiotics, or steroids. Their hens' diet also excludes animal by-products, recycled, and processed foods. Eggland's Best Organic Eggs also come in cartons that are 100% recyclable and made from 100% recyclable materials.
Eggland's Best Organic Eggs come in shell and hard-cooked peeled, which makes it easy to eat organic eggs on the go. For fantastic recipes like Easy Ham & Veggies Egg Muffin Cup, Shakshuka with Feta, Avocado, and Whole Wheat Sourdough, or Healthy Spinach & Bacon Quiche visit EgglandsBest.com.

Eggland's Best is not only committed to quality and producing the freshest eggs. The company is also committed to animal welfare and safety, giving their hens the best care. Visit the Eggland's Best website to learn more about their humane animal care practices and certifications.
Organic Dessert Options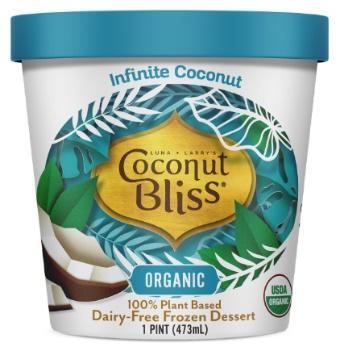 For those of us with a sweet tooth, a delicious alternative to try is Coconut Bliss, a vegan, plant- based, and organic ice cream alternative. As the company puts it, their commitment is to use "organic ingredients that are minimally processed, ethically produced, and divinely delicious." Coconut Bliss is also the dairy-free ice cream that 9 out of 10 customers would highly recommend, as determined by the Women's Choice Award.
Their ice cream flavors range from Infinite Coconut to Golden Banana Brownie Swirl. Their varieties also come in pints, bars, and the mouthwatering cookie sandwiches, like the Dark Chocolate Cookie Sandwich, made with vegan ice cream and gluten-free cookies. Check the store locator to find Coconut Bliss near you.
To reimagine their flavors, Coconut Bliss also offers a variety of delightful recipes on their website, such as Churros Bliss, Coconut Bliss Green Smoothie, and the vegan Coconut Cream Pie. As part of their commitment to high-quality ingredients, Coconut Bliss is also committed to empowering women. As a women-led business, their vision is of "Blissful experiences for all beings." Learn more about their initiatives and how they are making a difference in the world.

Ready to Go Organic?
Eggland's Best and Coconut Bliss certainly give us some easy ways to get started with organic foods, aided by their curated and creative recipes! Regardless of the food lifestyle you follow, the key is to make changes gradually and with proper medical supervision to ensure optimal health. To get more fresh tips and to learn about other brands and services that meet the highest standards set by women, visit WomensChoiceAward.com.
Back