How a Home Warranty Empowers Women to Protect Their Home and Budget
Over the last century there have been major advancements in home technology. These advancements like our home systems (i.e. A/C, plumbing) and appliances have made our lives significantly easier. We rely on them every day to help keep our lives and home running smoothly. After all, when just a single appliance stops working our lives are thrown into chaos, scrambling to find the quickest fix. This causes stress, both emotionally and financially. And while breakdowns are inevitable, the strain associated with them doesn't have to be. That's why award-winning, American Home Shield founded the home warranty industry in 1971 with the goal of protecting these assets and providing homeowners with peace of mind.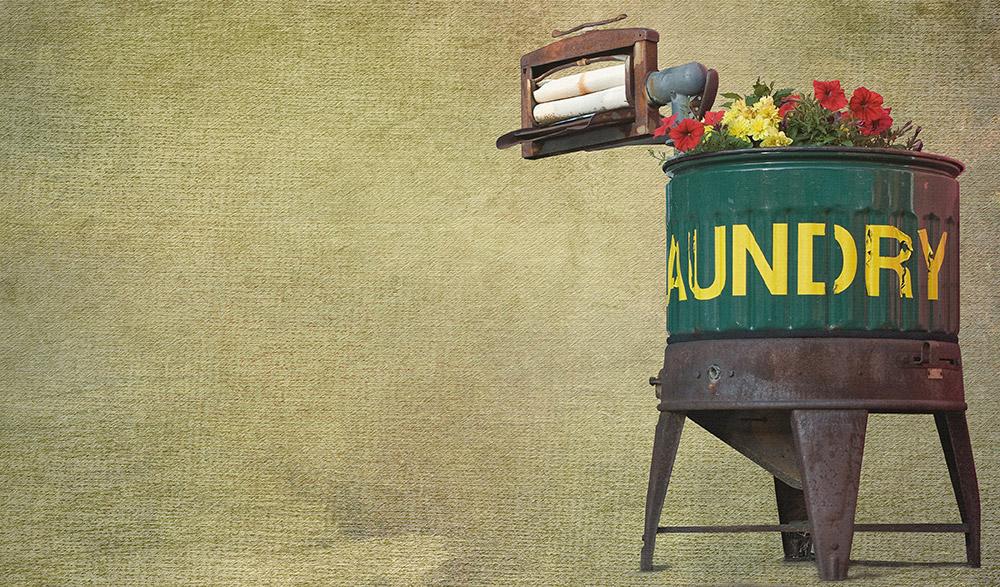 Of course, having an appreciation for the home appliances that we rely on helps remind us why protecting them with a home warranty plan is so important. After all, empowerment stems from inspiration, and what is more inspiring than taking a stroll (erm, scroll) down memory lane? Here we'll take a quick look to see the progression of our washing machines and refrigerators, which are among the most common household appliances today.

A Timeline of Home Appliances
Washing Machines
It all began with the scrub board, which was technically the earliest washing 'machine' invented in 1797. Then, less than a century later in the mid 1800s the high-speed rotary washing machine was invented. It was still hand-powered until about 1908 when the first commercial, electric washing machine was invented called "Thor." Understandably, there were many electrical complications of those early machines, but it wasn't until the 1930s when a more modern version emerged, like the one below from Maytag. These were among the first residential washing machines found in average homes. Finally, by the 1950s, manufacturers began supplying machines with a spin-dry feature to replace the wringer, as well as our first washing machine equipped with features like water temperature, rinse temperature, and spin speed. Now, we were on our way…


Refrigerators
Refrigerators transformed daily life so people could buy food in bulk despite climate and seasonal barriers. It began in the 1830s with the icebox, but without electricity, these were simply insulated boxes that held blocks of ice to keep perishables chilled. It wasn't until a century later in 1927 that the first affordable electric refrigerator for domestic use became commonplace. This domestic refrigerator, called the GE Monitor Top refrigerator was made to blend in with furniture, hence the table-like legs and cabinet-like door. And then, in the early 1930's the Crosley 'Shelvador' was invented as the first and only refrigerator to have shelves.


Empowering Women with a Home Warranty
Seeing how far we've come instills a sense of appreciation for the appliances that simplify our life. Can you imagine the time and work that went into hand washing, wringing, and line drying laundry? Or how meals were dependent upon which foods could stay fresh without a nice, cool fridge to store them in? Thank goodness for our modern appliances and home systems.
But in order to tackle the mounds of laundry and dishes, keep up with meals, and ensure the comfort of our family, we depend (and even assume) that our appliances and systems will not let us down. Nonetheless when they do inevitably fail us, a home warranty plan is a great way to feel prepared. Not only will it help protect your budget with coverage options to fit your home's needs, but they take the guesswork out of finding a qualified contractor to repair or replace the covered item. Once you submit a service request, that's their job! This is why the need for a home warranty has remained steadfast over the decades, ever since American Home Shield's inception in 1971.
And did you know that you're about 28 times more likely to use your home warranty plan than your home insurance? Here are a few ways in which a home warranty empowers consumers to protect their home and budget.
Versatile Home Warranty Plans
Most homeowners are on a budget, so being able to choose among three different home warranty plans and customizable trade service call fees helps homeowners identify the plan that's right for them:
The ShieldSilver™ plan is for homeowners who want to cover the must-haves like your heating and cooling, plumbing, and electrical systems.
The ShieldGold™ plan is perfect for anyone who wants to live life with less interruptions, especially in the laundry room and kitchen, with coverage for the main systems AND appliances you use every day.
And with the ShieldPlatinum™ plan, you get coverage for just about everything: key components of 23 major home systems and appliances, plus premium features like Roof Leak Repair Coverage, double the coverage for appliances, and a free HVAC Tune-up. No two homes are the same, and that's why we have options – so you can find the plan that fits your needs.
Many of the plans offered by American Home Shield also allows homeowners to purchase 'add-ons' like electronics protection, pools and spas coverage, roof leak repair coverage, septic pump coverage, and more.
Comprehensive Coverage
Not all home warranty plans are created equal, so be sure to look into precisely what a home warranty covers. For example, you'll want to know if a company offers coverage on: older items (regardless of age); undetectable pre-existing conditions; items without maintenance records; breakdowns caused by lack of maintenance; removal of old, defective items; improper installations or repairs; malfunctions due to sediments, rust or corrosion; etc. American Home Shield does offers coverage on these examples above which may not be offered by other home warranty companies. There is a terrific FAQ section for homeowners on their frequently asked questions.
Education for Empowerment
Consumers value companies that empower them with information, like critical maintenance tips to extend the life of home appliances and systems, making your home energy efficient to lower bills, or DIY repairs. It's about providing services, as well as distributing the information and tools to educate consumers on preventable matters or new research to save on time and money.
Home Maintenance
Some homeowners are diligent in keeping up with the maintenance of their home appliances and systems. This involves knowing what to do, how to do it and how often to do it. And fortunately, most appliances have the same general guidelines on proper maintenance. Many homeowners however, prefer to have a service that provides home maintenance services, including pre-season HVAC tune-ups to ensure home appliances and systems are working efficiently and effectively. This is where many homeowners find additional value in their home warranty plans.

Choosing a Home Warranty Service
A good starting point for choosing a home warranty service that works for you is learning the difference between a home warranty plan and home insurance, and then shopping around on American Home Shield to identify the best plans for your household needs.
Why American Home Shield? Not only is American Home Shield the most established home warranty service, they take pride in empowering women when it comes to maintaining their home systems and appliances. They recognize that women are still responsible for the brunt of household responsibilities and that offering member-exclusive pricing on home maintenance services, as well as a variety of home services — from tech installation and setup to pre-season HVAC tune-ups, serve to simplify her life. And that means more time for things that matter most, like family. It's no wonder that American Home Shield earned the Women's Choice Award for being the most recommended home warranty service by women across America.
Back