Q&A: How MedallionClass Gives Cruisers an Effortless Vacation
Whether you're a cruise-extraordinaire or first timer, everyone can appreciate service that goes above and beyond to surprise and delight. And that's just what Princess Cruises® is doing with their Medallion® wearable device. Forget about digging around for your room card or needing a credit card handy to pay for food and drinks while sitting pool side. In fact, you don't even have to move. Wherever you are on deck (or in your cabin), the Princess crew will find you to deliver savory meals and tropical drinks. And there will be no fussing about where your loved ones are throughout the ship- because you can view your friends' and family's location in real time. Beyond that, the Medallion gives cruisers access to fun games throughout the ship's portals and will allow you to view your personalized itinerary and events scheduled- among several other pretty amazing features.
Below we answer some of the most common questions cruisers ask about Princess' MedallionClass® experience: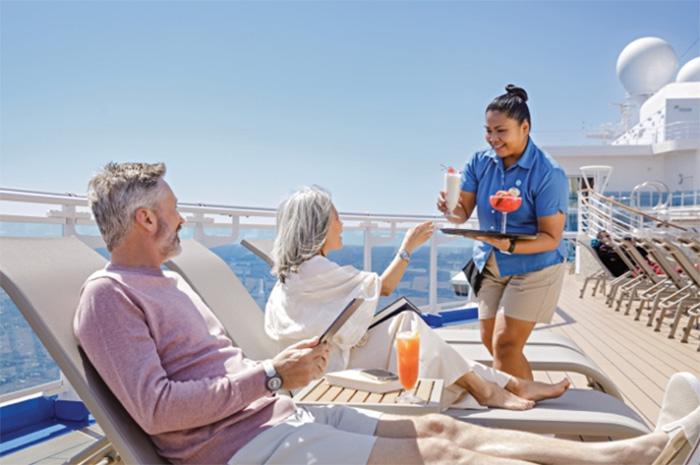 What is MedallionClass®?
A Princess MedallionClass vacation offers the ultimate in effortless, personalized cruising. It begins with your Medallion, a quarter-sized wearable device that enables everything from touch-free boarding to locating your loved ones anywhere on the ship, as well as enhanced service, like having whatever you need delivered, and so much more.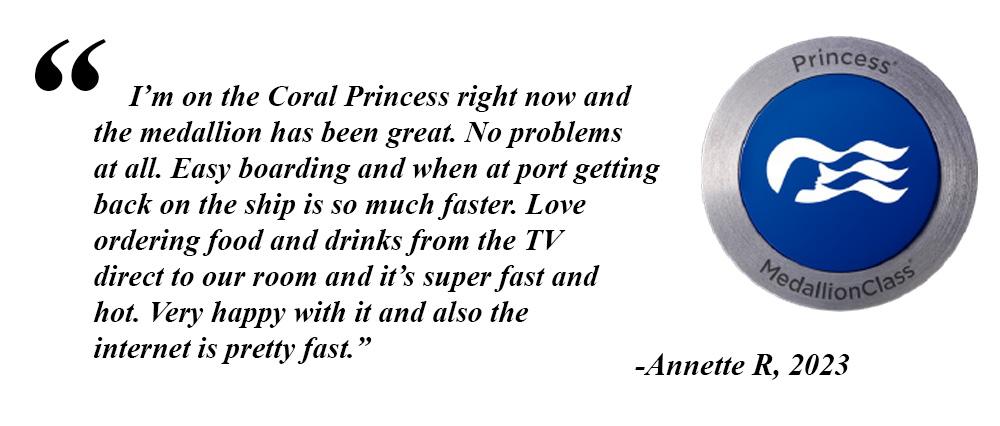 Do I have to pay for the Medallion® wearable?

Nope! The Princess Medallion is included in your cruise fare and available to all guests. The Medallion comes with a lanyard, but you can also add various accessories to fit your style. Adventurous? Princess has sport bands. Fancy? Try our jewelry-inspired bracelet or necklace. Sustainable? Use a wrist strap made from reclaimed ocean plastic. Whatever your preference, they have an accessory for you. Accessories range from $7 to $45 when purchased pre-cruise and are also available to purchase onboard.
And you can even customize the face of your Medallion! For only $5 you can highlight your birthstone, astrological sign, celebration, pet and more!


How do I use the Medallion® wearable?
The Princess Medallion is your key to get onboard the ship, open your stateroom door, purchase food, drinks, merchandise and services, play in the casino and more! It's the only thing you need around the ship so you can truly unwind and enjoy your vacation.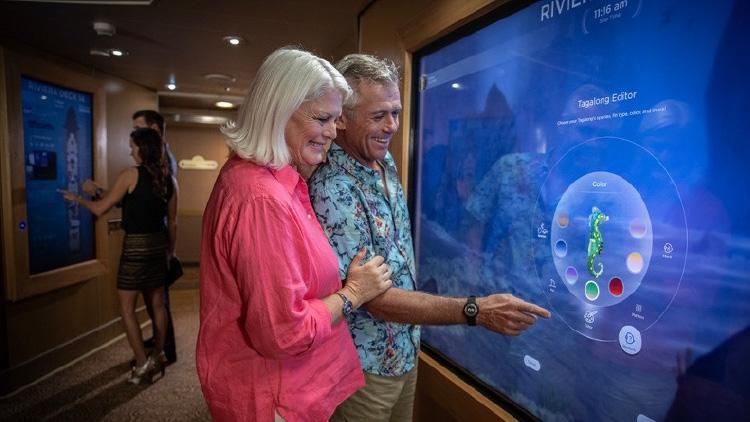 Simply wear your Medallion and let drinks and food find you, use portals to play games and find loved ones and tap your Medallion at shops to purchase items. It's that easy!
What can the MedallionClass® app do?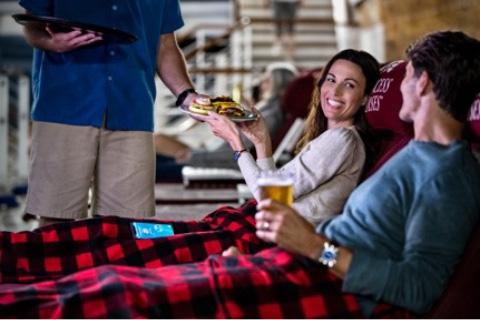 You can use the MedallionClass app pre-cruise to add your travel documents, complete a health questionnaire if applicable, purchase MedallionNet® Wi-Fi, add your travel companions, make dining reservations and more!
When you step onboard a Princess ship, you'll be able to use the MedallionClass app to order food, drinks and merchandise wherever you are, whenever you'd like. You can also book and view dining reservations, view events onboard, find your loved ones onboard and more.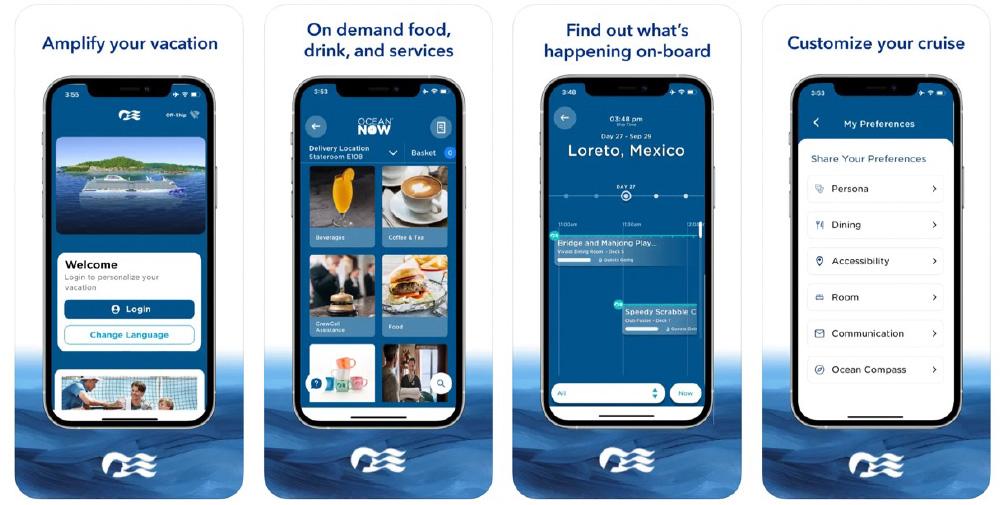 Do I need to download the MedallionClass® app for my cruise?
If you'd like to completely disconnect on vacation, you can! Downloading and using the MedallionClass app unlocks experiences to make your vacation effortless, but it's not required. You can still make the most of your vacation by using the portals around the ship to view events onboard, find your way and fellow cruisers and use your stateroom TV to order food and drinks.

Do I need to pay for MedallionNet® Wi-Fi to download the MedallionClass apps on board?
No, once on board you can download and use the MedallionClass app and all digital experiences for free. But they do suggest you download the app prior to boarding to enjoy seamless boarding with 'OceanReady®'.

Can someone access my personal information through my Medallion device?
No, your Medallion device doesn't store any personal information, so no need to worry if you lose it.

Can I wear my Medallion device in the pool?
Yes, it's waterproof, plus heat, sand and salt resistant!

What happens if I lose my Medallion wearable?
If a guest notifies the crew of a lost Medallion device, it will be disabled and replaced at no cost. For security of purchase transactions, each Medallion device is associated with a guest profile that contains their onboard security photo. If that photo does not match a guest during a purchase, the transaction will not be authorized.

How does the Medallion device help with guest safety?
The new xiSafety system accelerates and strengthens safety and security operations onboard a MedallionClass ship. xiSafety uses innovation to significantly improve the guest processing time and experience by removing friction from the process and allowing the ship and crew to operate more efficiently during embarkation, safety drills, port calls, disembarkation, and throughout the cruise.

So, what's next?
If you're getting ready to book a cruise, or just perusing the internet for some guidance. We're thrilled to share that Princess Cruises has earned the Women's Choice Award as an America's Most Recommended Cruise Line! It's an honor to recognize Princess, not only because women love them, but because they continue to invest in their customer experiences, aiming to delight cruisers each step of the way!
And if you still have questions, you can check out more information at these links below.
Back